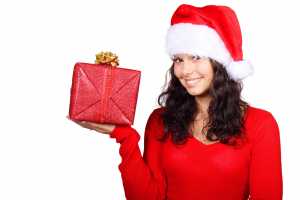 Holiday shopping can be stressful and overwhelming. You may be asking yourself, "What should I give my nanny for the holidays?" After 10 years of working with Nannies we know you can never go wrong with cash.
The colors of the season are red and green. Focus on the latter. Your gift will be greatly appreciated. One thing you may not know is that an annual holiday/end of the year bonus is customary in the nanny industry……. even though you may not receive one yourself.
Many nannies are parents too. They often live paycheck to paycheck.  Nannies have mortgages, car payments, tuition, and childcare costs of their own. They want to be able to buy gifts for their families… Even if they aren't helping to support their family, they still want a monetary gift. There are so many gift cards that can be wrapped or simply cash/check will do.
Now, you want to know how much. There are no absolutes, but a week or two of salary is very standard. The longer a nanny is with your family, the larger the gift. Feel free to add smaller (or not) personal gifts. Spa treatments, tech gadgets, gift cards, handmade gifts from the children, etc.
The children can be creative with fun with personalized gifts which will be cherished as well. There is no better time to reward the person taking care of your children than now.