Your Summer Nanny – On the Go!
As we move into summer and our kids enter summer vacation mode, parents may find themselves facing new schedule challenges.  Nannies On the Go offers competitive pricing as compared to day care centers and other Dallas Nanny Agencies, with more specialized care for your children with a summer nanny.

The advantages of employing a nanny during the summer go beyond schedule convenience.  They can ensure every day is an adventure experience for your vacationing loved ones.  Outings can be planned, social opportunities are under your control, home arts & crafts, fun meals, and no phone calls from the daycare center, ever.
As parents, we want summer vacation to be memorable and fun but don't always have the time to fully realize our aspirations.  Hire a summer nanny who can focus on daily activities that you may not have time for!
Fun Food with your Summer Nanny
For those days when the kids go to the park, the pool, or anytime on the go, travel snacks may be challenging.  Here are some suggestions of food ideal for running about town.
DIY Trail Mix
Do a little shopping and find some mixable treats your kids love.  Organic Yogurt balls or Organic coconut milk balls mixed with dried fruit, dark chocolate, popcorn, pretzels or nuts are just a few suggestions.  Use small containers you can reuse and create carriable treats that will satisfy your adventurer.
Fruit-on-a-Stick
Fruit kabobs are fun for a change.  String fresh fruit onto straws, combining watermelon, berries, peaches, strawberries, whatever delicacies you find at the local farmer's market.
Juice Packs
Don't forget the juice! There are a variety of juice boxes available today, however we would recommend using them sparingly because of their potential sugar content.  Stocking up on bottles of water might be a better solution.
Frozen Treats
Freeze choice fruits like bananas, berries, or watermelon for yummy frozen treats.  They can be doled out a slice at a time or blended into a smoothie.  Bag some grapes, a few in each individual bag, for cold treats on the run.
Mini muffins
Pre-bake some mini muffins, they make great on-the-go treats.  Full size muffins can make a mess where the minis are almost one bite, no crumbs!
Summer Snacks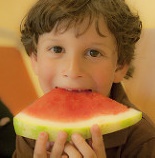 Sometimes during the summer, we stretch the "meal plan" because we're busy having fun.  If you're taking more of a grazing approach to the day, here are some suggestions that will help keep things balanced.
Protein
Mozzarella string cheese
Low-sugar yogurt
Soymilk
Boiled Egg
Nuts
Fruit, Veggies, or Whole Grain
1 piece of Fresh fruit (peach, apricot, apple)
1 cup of berries, cherries, grapes, or watermelon
1 cup of cherry tomatoes
1 cup of sugar snap peas
½ ear of corn on the cob
½ cup of sliced cucumber
3 cups of popped popcorn
1 oz whole-grain crackers or pretzels
1 serving granola or a granola bar
Summer Snack Combos
Some great ideas you can throw together your kids will enjoy!
Banana Ice Crème: Blend a frozen banana with 2 tablespoons of peanut butter in a food processor until it shares the consistency of soft serve ice cream.  Yum
Fruit Parfait: Layer vanilla Greek yogurt with berries in a handy-sized container.  Instant delight!
Cheese & Grapes: a cup of frozen grapes with an oz. of cheddar is sure to please
A Note about Hot Dogs
Summer means hot dogs, a favorite for big and small.  If you're looking for vegan, non-GMO alternative, try Lightlife Smart Dogs.  7 grams of protein and only 50 calories each, you'll be challenged to tell the difference between them and the standard grilled hot dog.  They can be found in the produce, dairy, or natural section of your local grocery store.  There's even a Jumbo Dog variety with 13 grams of protein and double the calories.
Summer Snack for Toddlers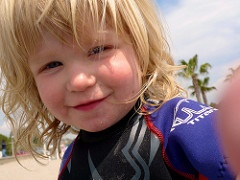 Try Gerber Lil' Beanies!  They come in Original flavor and White Cheddar & Broccoli flavor.  Made with navy beans with 2g of protein per serving.  They're portable and kids love them!
Sun Protection
While your kiddos are out and about, there is more you can do to protect them from the sun.  Sun screen wears off, but Little Leaves Clothing Company has new gear that will last as long as they stay dressed!
Their clothes are made from a bamboo fiber blend and are very soft, naturally hypoallergenic, absorbent, odor resistant, antibacterial, and antifungal.  Extremely light weight and more breathable than 100% cotton, they're perfect for everyday wear.  You'll discover the fabric is chemical-free, has a UPF of 50+, blocking 98% of the sun's harmful UV rays, they use all natural, non-irritating dyes, and are toxin free, environmentally friendly and relatively affordable.
Let the summer fun begin!  Your summer nanny can help maximize your kid's summer schedule and may even be persuaded to go with you on that theme park outing to help wrangle your crew!  Contact Nannies on the Go today and schedule your summer nanny!
Come back and visit us again, we'll have summer tips ideas for the whole vacation!
——————————————————
ABOUT NANNIES ON THE GO:
We are one of the premier Dallas Nanny Agencies that provide skilled, qualified nannies to families on an as-needed, part-time or full-time basis. Call us today at: (817) 442-0225 or Email: info@nanniesonthego.net
RELATED POSTS: